PICKING THE RIGHT WEIGHTED VEST FOR YOU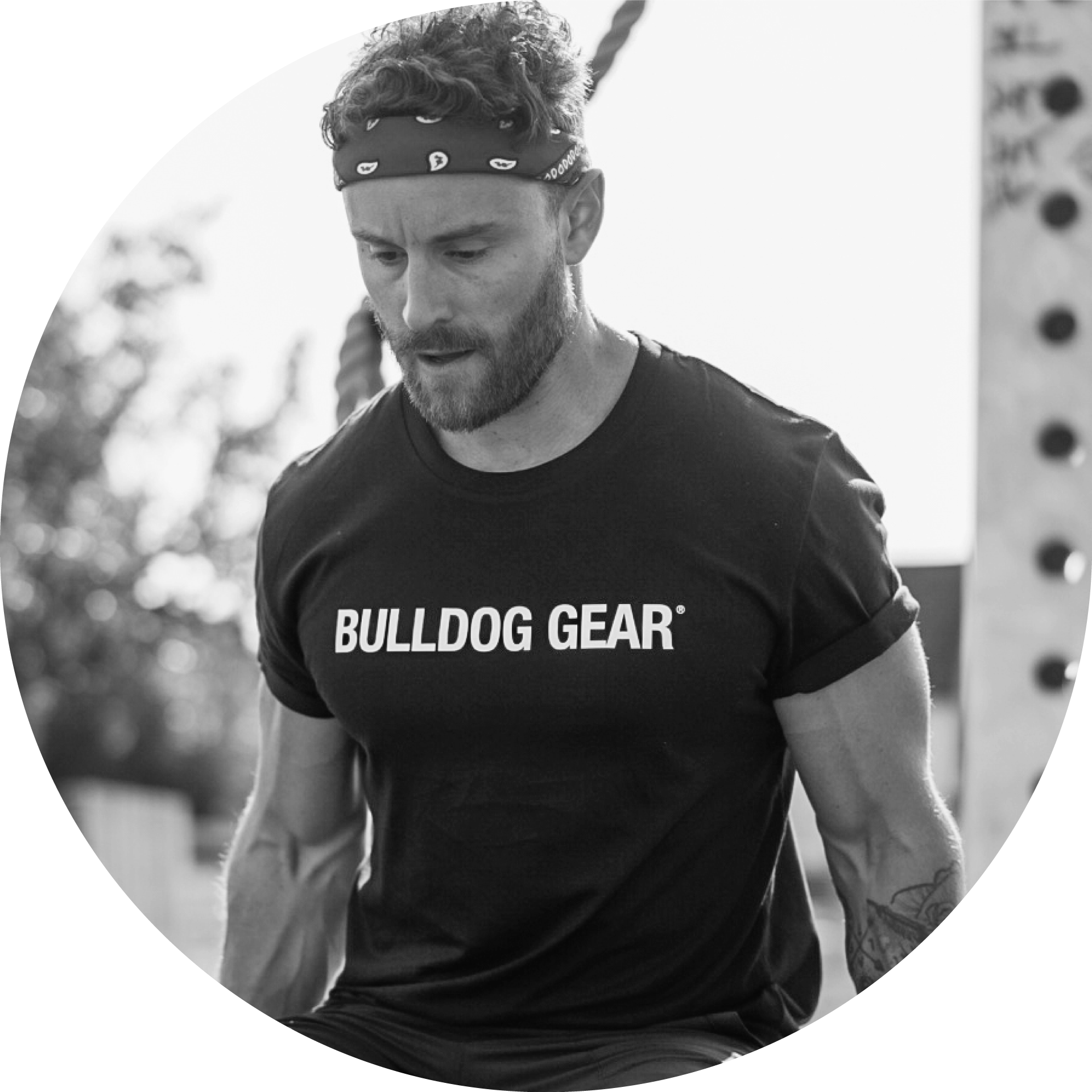 08/04/2021 | Andrew Tracey
Andrew Tracey is a long time collaborator with Bulldog Gear. A coach, writer and current fitness editor of Men's Health Magazine, he has been in and around the fitness industry for the past 16 years. Having enjoyed and endured a number of disciplines from endurance racing, to strongman, to Crossfit AT enjoys getting neck deep in the practice just as much as the theory.
From RX-ing the Crossfit hero WOD 'Murph' to going RX plus on your ring push-ups, a weighted vest is a must have piece of kit in any functional trainees arsenal.
With benefits including increased endurance, strength, muscle building and even increased bone mass, once you're ready for it, a regular outing in a weighted vest could be the key to unlocking new gains.
You may be itching to suit up, but with a variety of different vests available, you may also have found yourself wondering just where to start. In this guide we're going to delve into the benefits of our two weighted vest designs, to figure out which one packs the right punch, for you.
Let's take a look at our contenders:
Our 20kg weight vest uses removable solid metal weights, allowing you to change the weight of the vest to suit your needs- adding and subtracting to weight to scale your workout either way.
This is definitely the heavyweight option and is not to be underestimated, the idea of a 20kg weighted pull-up is daunting enough, spread that weight over the course of an entire session and you're in for a serious workout.
Coming in at 10cm shorter than the more military style 'tactical weight vest', this more cropped offering may prove beneficial to shorter trainees, especially in squatting movements where you may struggle with the plates on a longer vest making contact with your thighs.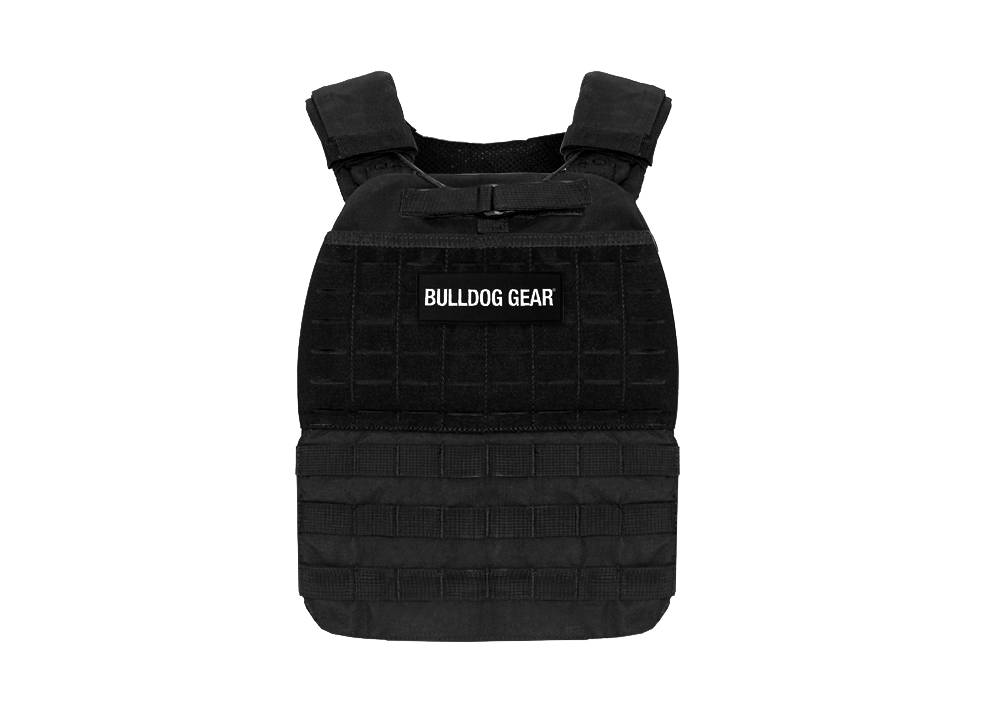 The tactical weight vest is a rugged and robust plate loaded option. Made from durable water resistant nylon, the aerospace mesh and padding provide high levels of airflow to the torso, keeping you cooler for longer, vital for continued performance.
The 'carrier' vest can be purchased alone, or pre-loaded with the appropriate plates to make
it up to a 10LB, 14LB or 20LB vest respectively, meaning although you may not get the instant adjustability of a brick loaded vest, the option for scaling/adjusting is still available.
The slim line plate design also helps to give you a full range of motion in calisthenics movements, something that can be limited by the bulkier brick loaded vest, this can be particularly useful if you're shorter limbed (or not, depending on your views on performing full range push-ups!)
The true strength of this vest lays in it's design, you may not be able to go as heavy, but it's built for comfort, meaning you can go further and for longer. With more ergonomically designed shoulder padding and additional adjustment versus it's brick loaded cousin, this plate loaded option may be more suited to longer endeavours such as distance running, whilst also being far easier to configure into a more comfortable position, particularly beneficial for women.
Use this infographic to help assess which key features in a weighted vest are more important to your training.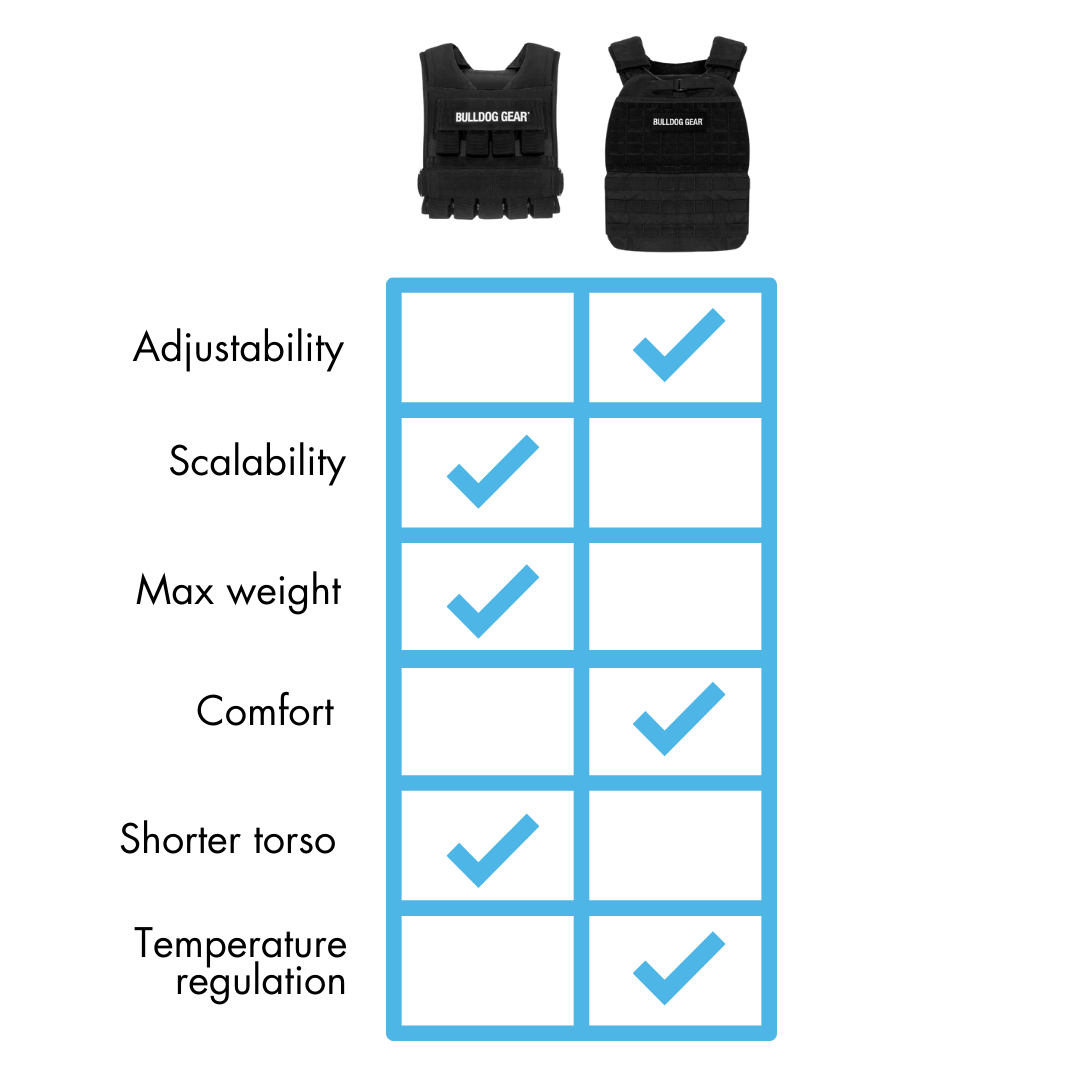 Despite both models boasting some pretty impressive stats, the key to deciding which one is right for you to comes down to one thing- how do you plan on using it?
For heavy but scalable, strength building blasts, the 20kg adjustable vest is most likely for you.
For those among us who are looking to go harder, for longer the tactical weight vest is the perfect fit.