FROM HUMBLE BEGINNINGS TO PUSH-UP MASTERY IN 8 MOVES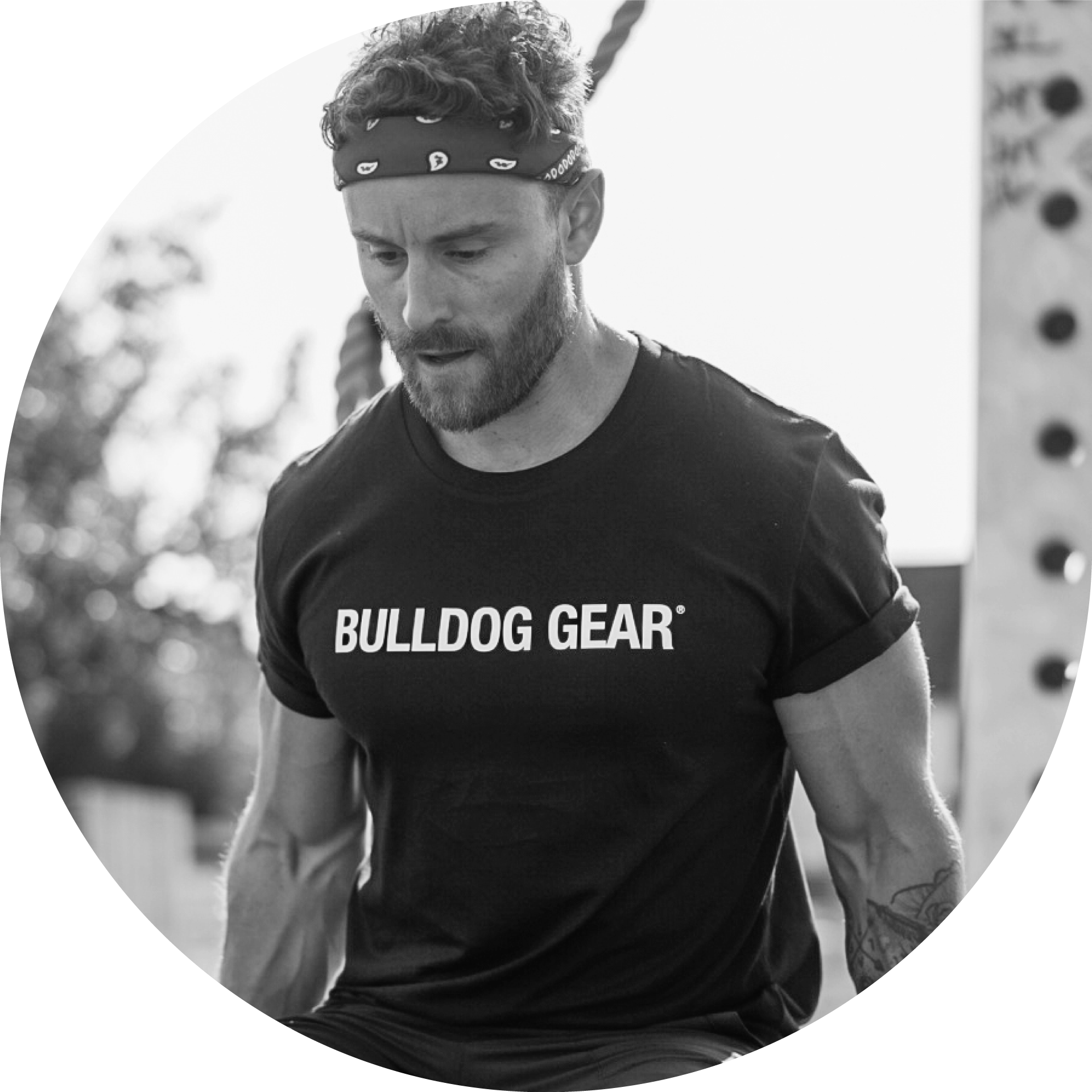 08/04/2021 | Andrew Tracey
Andrew Tracey is a long time collaborator with Bulldog Gear. A coach, writer and current fitness editor of Men's Health Magazine, he has been in and around the fitness industry for the past 16 years. Having enjoyed and endured a number of disciplines from endurance racing, to strongman, to Crossfit AT enjoys getting neck deep in the practice just as much as the theory.
The humble, unassuming push-up is one of the very first movements many of us are exposed to on our fitness journey, quickly racking up the sets and soon finding ourselves seeking out harder alternatives. For others, those first few reps can remain elusive for some time.
Wherever you are on your journey to push-up perfection, consider adding in of these regressions/ progressions to up your game.
Whether you're mastering the basics or a master of movement, there's sure to be a push-up in here for you.
1. HANDS ELEVATED PUSH-UP
Forget push-ups from your knees, the best way to begin your journey to mastery is with your hands elevated. Maintaining a solid 'plank' position throughout helps to build the core strength necessary to hit those high reps, but it's a position you lose out on when you opt to regress to kneeling push-ups. Begin with your hands as high as necessary, either on a box or bar, to allow yourself to do 10, great quality, full range reps. Once you've mastered this height, use a lower bar/box and begin again. Keep working your way towards the floor in this fashion and you'll have those first proper push-ups in the bag in no time.
Once you've mastered your ground game, you may still need a little helping hand to hit those high reps. Loop a resistance band around your elbows twice (or use a short resistance band), and drop into your push-up position, as you lower your chest towards the floor the resistance of the band will relieve some of the load and give you an explosive 'spring' back up, allowing you to focus on perfect form.
Got 20+ perfect reps in the bag? Good. Now it's time to step your game up. By lifting your hands away from the floor at the bottom of each rep, not only are you ensuring the fullest range of motion, but you're also eliminating the 'stretch-shortening cycle' which usually helps to propel you back upwards, making each rep that fraction tougher.
Remember the band assisted push-up? We're going to flip that concept on it's head to give us an extra challenge. Hold both ends of a resistance band, assume a push-up position with the band stretched across your mid to lower back and anchored under your hands. Lower yourself to the ground under control before pushing back up explosively against the tension on the band.
Another concept remixed from regression to progression. By elevating our feet instead of our hands we can increase the leverage we're working against, creating a greater stimulus. Start with a small box or stack of plates and work your way up to a high incline.
Grab a set of dumbbells, kettlebells or even parallettes to increase the range of motion on those push-ups. Lower yourself down, under control until you feel a strong stretch across your chest, before pushing back up explosively. Prepare for major DOM's after this one.
All of the goodness of the deficit push-up, with the added benefits of training on an unstable surface. Ring push-ups help to foster huge shoulder stability. Lower yourself under complete control, keeping the rings steady until you feel a stretch across your chest, press back up explosively, bringing the rings together the top and squeezing your chest hard.
Now we're nearing mastery! A combo breaker combining not just two, but three of the moves you've already tackled. Elevate your feet onto a box in front of a set of rings, when you assume your push-up position your body should be just greater than parallel. Secure a band around your back and hold both ends on the rings. Lower your body under control until you pass below the rings, push-up back up, keeping your midline tight against the band tension, squeezing your chest hard at the top of each rep. This one won't only helps to put slabs of muscle on your pec, but builds enormous core strength.